It's common to hear marketers talk about brands telling stories to connect with their fans. Typically this manifests itself as some sort of brand personality / legend / myth that people who associate the brand buy into. I think that's just swell, but I think we can do better. I think we can create brands that help our fans tell better stories. Let me show you what I mean.
If you've met me, you know I'm a t-shirt (& shorts & sandals) kinda guy. But not just any old t-shirts, I happen to have a small collection of favorite sources, one of which is Ugmonk. Ugmonk's shirts are almost all some sort of typographical or simple visual design. They also seem to really resonate with people.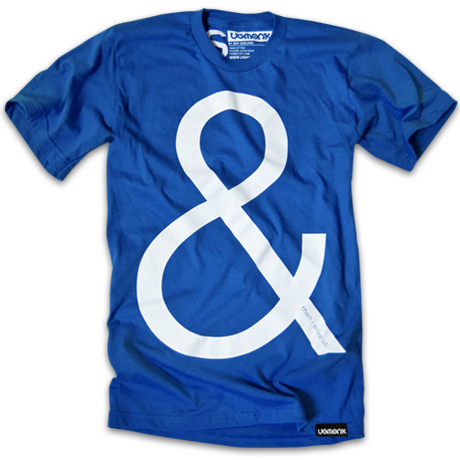 Perhaps my favorite Ugmonk design, "And then I woke up," features a giant ampersand. For some reason this prompts people to stop me in the hallway and ask "and…" Sometimes I show them the tiny little print at the bottom of the ampersand that reads "then I woke up" but most often I tell them that the shirt is about collaboration. And that's what the shirt is about, to me. I've made up my own story around it. How when I'm wearing it I like to stand between people in meetings to see if they get the message that we should all be working together. How I think it's great for brainstorming where you want people to try to add on to your idea and make it better.
And I've made up stories like this for most of the Ugmonk shirts I own.
For % (just a giant percent sign on an orange shirt) I say it's about responsive web design and fluid grids (another topic I like to evangelize about.)
For "Yes" I say that I wear it when I seek to get and give agreement on something but if I want to be skeptical I wear its alter-ego "No.
" Mountains is about the fact that nothing is impossible – if we work hard enough we can, in fact, move mountains.
"Path to Nowhere" is about meetings.
"7 days a week" is about putting in the time to make something really great.
And finally "There's more to life" reminds me that rarely are we doing truly meaningful work (saving lives / making the world better) so let's just try to take ourselves a little less seriously (and try to find more time to do truly meaningful work.)
The point being that Jeff Sheldon (the designer behind Ugmonk) has created a product that doesn't just serve its primary purpose (keeping the wearer looking damn good) but goes beyond to serve a higher emotional purpose and can actually embody many of the wearer's beliefs as well. And the best part is that we can both own the same shirt and have totally different stories to tell about it (maybe mountains to you is about growing up snowboarding and staying in touch with nature…)
Which of your favorite brands or products help you tell your story?